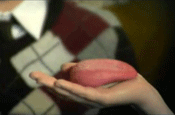 The brand is looking to replicate the success of a similar competition which ran in the US.

The winner of the UK version will win £20,000 and see their ad shown on national TV.

The online ads, directed by Academy's Tony Barry, show two advertising creatives pitching terrible ideas to clients, and end with the strapline "Got a better idea? See your ad on TV and win £20,000."

They were written by Paul Knott and art directed by Tim Vance at Abbott Mead Vickers BBDO.

The first shows a bald man with a long beard become clean shaven with a slicked-back hairdo after eating a packet of cool original flavoured Doritos.

The second shows a young man's date retrieve his tongue from a glass of water after he spits it out following a packet of chilli heatwave flavoured Doritos.

Both ads then encourage potential entrants to visit the brand's website, where they can upload their film.

These spots were written by AMV's Mike Nicholson and art directed by Paul Pateman. Keith Bearden diercted through Mr Hyde.

A panel of experts will decide the winner, and from 24 March there will be supplementary prizes for the ad of the week.