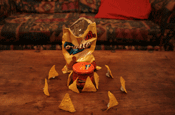 The spot, which first aired in June last year during the final group B game of Euro 2008, will relaunch on 12 February.

It was the winning piece of work from the company's "You make it, we play it" campaign that saw Doritos challenge the public to create an ad that could be beamed to aliens and give them a taste of life on earth.

A shortlist of five ads was put together from more than 200 entries and the public was asked to vote for the best one.

Peter Charles, the brand manager at Doritos, said: "The imagination and talent put into 'Tribe' really made it stand out. Other consumers clearly connected with the ad, leading to an incredible response at retail level."