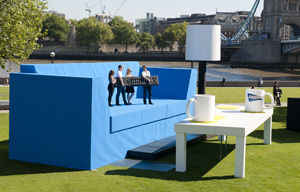 The 'King of Living Rooms', which featured a 9m long sofa, a 4.5m tall lamp and a supersize TV and remote control, was created by Frank PR to showcase Doritos final three adverts encouraging the public vote as part of the Doritos King of Ads campaign.
To see the pictures click here.
The competition to create the next big Doritos TV ad is now in its final stages with just three amateur directors left vying for the title of Doritos King of Ads.
The winner will win up £200,000 and have their advert aired on national TV from 13 June.

"The standard of entries was incredible and the contestants really took on the Doritos brief and had a lot of fun with it. The public are going to love the final three ads and I can't begin to predict who's going to win - it's entirely up to the British public," said Bafta winning Doritos judge Noel Clarke.

Public voting will close on the 10 June 2010.
To add comments, make sure you register here.