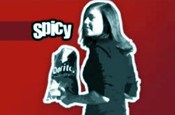 The competition will launch on the brand's website, still under development, on 29 February. It will be supported by a press and poster campaign from 10 March.
A long-copy ad to support the promotion, created by Doritos' UK agency, Abbott Mead Vickers BBDO, is titled "Make A Great Television Ad And Win £20k.
It stipulates that the only requirement is that the commercial includes Doritos. Under the title AVOID, it advises against "trying to be like well street blood just coz you is advertising to the yoof, innit", and "Barry Scott" and "annoying jingles".
The idea has been imported from the US, where a consumer-generated ad for Doritos was shown at last year's Super Bowl final.
This year, unknown singer Kina Grannis, aged 22, won a recording contract after winning a Doritos competition to compose a song.
Last year's competition was won by 5PointProductions, which used its success to launch its creative content business.