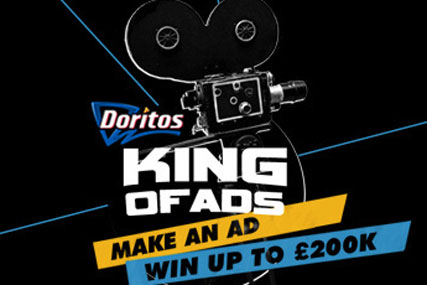 The brand's previous UK competition, its first, ran in 2008 and offered a prize fund of £20,000. 'You make it, we play it' asked the public to devise a TV ad that could be beamed to aliens to help give them a flavour of what life is like on earth.
The winning ad, called 'Tribe', used stop-frame animation to show the Doritos crisps dancing around a jar of Doritos salsa dip.
Peperami's recent user-generated ad competition offered a prize fund of $10,000 to come up with ideas that would then be made by an agency.
To promote the competition, Doritos will be running an on-pack promotion and an online campaign, and will also be giving away a number of weekly prizes as the competition progresses, in association with D&AD, YCN and Channel 4.
With the help of Abbott Mead Vickers BBDO, Doritos is hunting for budding directors to create and shoot a 29-second TV ad, using a competition tool kit that can be found on the Doritos website.

The makers of the top 15 spots will then be invited to pitch their ad to a panel of judges, which includes Bafta award-winning actor Noel Clarke and TV presenter Lauren Laverne.

The panel will choose its top three ads, which will then be put to the public vote.

The ad that receives the most votes will be crowned 'The King of Ads', and will be aired on national TV in June.

The creator of the spot will also win £100,000, as well as an extra £1 for every vote they receive up to an additional £100,000.

Doritos will also be launching a weekly TV show on its website, which will be screening a variety of content including industry tips and judges comments.