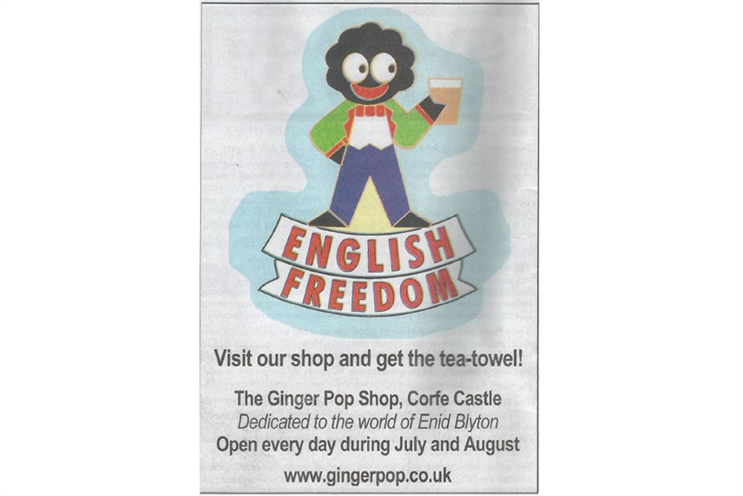 The ad for The Ginger Pop Shop at Corfe Castle, which ran in June, features one of the characters holding a pint of ginger beer with the text "English Freedom" underneath.
The ASA said the message, printed in the Purbeck Gazette, was a reference to local controversy around a tea-towel produced and sold in the shop, featuring the character, and mentioned in the ad.
The watchdog received two complaints that the ad was racist. But in its response to the investigation, Ginger Pop said it did not accept that the character represented a racial stereotype.
Instead, the shop wheeled out the history of the character, providing a copy of the 19th century children's book in which it first appeared, along with quotes about its creation by the author, Florence Kate Upton.
Along with this, it provided a range of other historical materials, referred to online videos it had produced about golliwogs, and included letters and comments from visitors to the shop, which it said demonstrated the majority of passers-by were positive about the fact it sold golliwogs.
Ginger Pop also argued that the character had been misconstrued over time: that it was not intended to be human, but a magical character, and that it should be seen as aspirational and heroic.
But the watchdog ruled that a significant number of people would view the character as representing negative racial stereotypes, which meant the ad was likely to cause serious or widespread offence.
It also said the use of the phrase "English Freedom" was likely to exacerbate this, because in combination with the image it could be seen as negative reference to immigration. The watchdog ruled that the ad must not appear again in the form complained of.
Golliwog saga
The Ginger Pop shop – which sells new and secondhand books, toys, World War II artifacts and other items related to Enid Blyton – was opened at Corfe Castle, because the author visited in 1940, and it is thought the castle inspired her description of Kirrin Castle in The Famous Five series.
It is named after the preferred beverage of Blyton's protagonists, who are known to enjoy "lashings of ginger beer".
The golliwog was invented by Florence Kate Upton in 1895, and first appeared in The Adventures of Two Dutch Dolls and a Golliwogg.
Blyton's books were among many areas of British culture in the early 20th century to feature the characters.
They have continued to stoke regular controversy, often in the form of conflict between those keen to protect what they see as the original historical meaning of the characters, and the widespread view of the characters as racist.
The owner of Ginger Pop appeared in the news eight years ago when she received death threats over her decision to sell the dolls. And a pair of shops in Glasgow were the latest to come under fire for doing so last December.