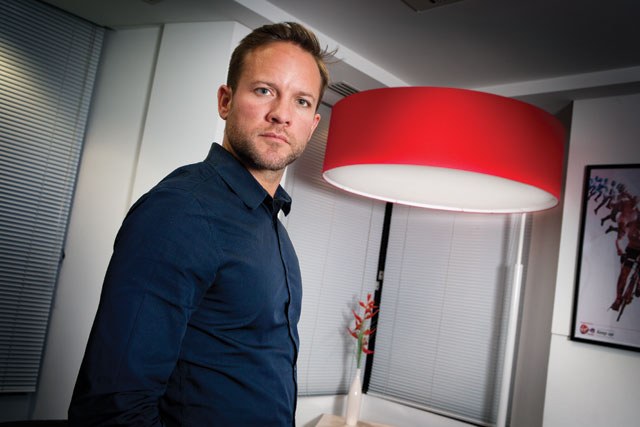 RICHARD LARCOMBE, DIRECTOR OF ADVERTISING AND SPONSORSHIP, VIRGIN MEDIA
- What do we mean when we talk about convergence?
Originally, convergence referred to technology adopting multiple functionality beyond its original role - mobiles are now smartphones, TVs are now connected. However, as technology has become more complex, it has become a term that defines how we are living our lives across multiple devices, applications and platforms. Leading this movement is the rise of multiscreening, which has turned us into a nation of multitaskers. Sequential and simultaneous screening is now common practice inside and outside almost every home in the UK.
- What is driving this phenomenon?
Following improvements in connectivity and the sharp rise in device capability, convergence is now mainstream behaviour and it is driven by a basic human need - the need to belong. What's fascinating about convergence in the home is that while devices have fragmented and apps have exploded, togetherness has never been so important. So, while families are on different devices across different platforms pursuing their own passions, they are more often than not doing it in the same room. They are connected both in the physical space but also the virtual one.
- Are we already there or is there much more convergence yet to happen?
We are just getting started. The cloud will become omnipresent as physical storage becomes obsolete, trans-device synchronicity will just happen and, through real-time data analysis, past decisions will shape future choices - we will become our own editors and curators. However, what will be fundamental to the speed of progression will be the pace and reliability of the networks. Poor connectivity will be the single-biggest barrier to the depth and range of behaviours in the next 18 months.
- How will convergence reshape the way media agencies buy and media owners sell media?
Trading will become more sophisticated as the data thrown up by convergence is infinitely more surgical than at present. Trading will be based far beyond a representative panel or simple demographics but evolve into complex models of engagement, interaction and influence as media owners build a much clearer picture of cross-media usage and its role in the purchase journey from consideration to advocacy. This, of course, raises other issues around pricing and evaluation. Creating a standardised measurement framework cross-platform and across devices that media owners, agencies and clients all sign up to will be the next challenge.
- How does the balance of paid, owned and earned media shift as a result of convergence?
The notion of paid, owned and earned means that we need to think in terms of the value of media and not the cost. Owned and earned have always had a value but have been hard to quantify - until now. With the explosion of owned brand spaces and the wealth of data created from them, the importance of these territories and the power of influence that emanates from them will grow. In a converged digital world, it's no longer acceptable to expect consumers to simply think or feel after engaging with brands - they need to actively do something. To this end, the ability to monitor and adapt communication strategies in real time, tracking the influencers, conversation catalysts and social sharers, will be hugely appealing and place a disproportionate value on earned media.
MILTON ELIAS, HEAD OF MOBILE, OMD
- What do we mean when we talk about convergence?
Convergence can be broadly defined as the migration of multiple communications services into a single network or device. In the early days of audiovisual communications, only radios were able to transmit audio broadcasts, while TVs were the only devices to transmit live video images.
But in today's connected age, when devices are becoming increasingly "smart", these services can be converged and consumed from one platform. As a result, connected TVs, PCs and mobile devices now give users great choice and flexibility in terms of when and where to consume content. However, the smartphone is the greatest facilitator of all, as it puts all of these services at consumers' fingertips.
- What is driving this phenomenon?
Advances in technology are a driver, alongside competition among leading tech companies such as Samsung, Google, Sony, Apple and Microsoft. One of the results of this competition is convergence. However, we believe that consumers themselves play a role in driving these tech giants to build more functionality within devices to fulfil their needs. Consumer behaviours shape products and their direction: poor product developments are quickly phased out, while useful and sophisticated ones tend to stick around and evolve.
- Are we already there or is there much more convergence yet to happen?
We can expect more convergence as technology improves and as consumers' demands continue to drive it. Consumers will continue to expect more from their media devices and for the companies associated with them to further improve and/or simplify their lives. Where there is consumer demand, converging media and devices will continue to be a phenomenon that improves and disrupts the way marketers and businesses operate.
- How will convergence reshape the way media agencies buy and media owners sell media?
This convergence phenomenon can potentially be very disruptive for traditional media companies, as it forces them to evolve their products and services to keep up with consumers and meet their demands. As such, planning and buying of all traditional media channels has to be increasingly digital and considerate of different platforms. Agencies and media owners will need to become more flexible, multiplatform-savvy and sensitive to the numerous touchpoints through which consumers engage with media and experience brands. If we fail to do this, we will fail to reach and inspire audiences in an effective way.
- How does the balance of paid, owned and earned media shift as a result of convergence?
As paid, owned and earned media become increasingly accessible to consumers via fewer consolidated devices, brands must ensure consistency and positive user experiences among these. Within this context, mobile devices are of great importance as these facilitate immediate conversation and generation of user content. As more and more brands engage and invite users to actively participate in these conversations, the lines between paid, earned and owned media will become less apparent in consumers' eyes.