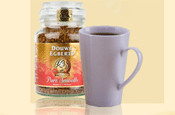 The campaign, created by Cubo, will take the form of advertorials offering 50p-off coupons in the three weeks prior to Christmas. There will also be an in-store campaign in the major supermarkets.
Cubo won the £4 million account in August when it pitched alongside sister advertising agency Chick Smith Trott.
Christmas is a time of year when consumers like to trade up on food items. Douwe Egberts is hoping that customers acquired during the drive will become repeat purchasers.