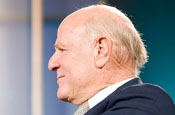 The joint venture will launch a community-driven website, using personal finance content from the Wall Street Journal, MarketWatch and other Dow Jones products. It will draw on marketing and technology expertise from IAC businesses, including Ask.com and LendingTree.
Dave Kansas, editor of The Wall Street Journal's Money and Investing section, will be president of the new venture. He has played a major role in pushing the newspaper's print-online franchise.

Rich Zannio, CEO of Dow Jones, said: "This venture combines the power of IAC marketing, distribution and technology with the credibility and relevance of Dow Jones' brands, content and editorial expertise to create a place where consumers can learn, interact and make the most of their financial resources. The site will help consumers thrive as they progress in their careers and lives."

Barry Diller, IAC chairman and CEO, added: "People everywhere are looking for modern and easy-to-use tools to help them in their personal financial life. A personal finance service that combines social media with the credibility of leading editorial brands in an internet site driven by smart technology is a great idea and a natural extension of IAC's strategy to serve consumers in sectors being transformed by the internet."