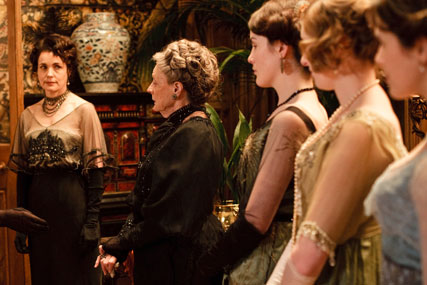 Last night's audience for 'Downton Abbey', produced by the NBC Universal-owned Carnival, was the highest audience for a new drama series from any broadcaster this year and was up 1.1 million from last week's opening episode.
'Downton Abbey' attracted an average audience of 8.78 million between 9pm and 10pm across ITV1 and ITV1 HD, a 33.2% share of the TV watching audience.
ITV's forays into period drama have not always been so successful, the concluding part of 'Lost in Austen', ITV1's reinvention of the classic Jane Austen novel 'Pride and Prejudice', managed 3.1 million viewers in September 2008.
Other successful new ITV programmes include 'DCI Banks: The Aftermath', which launched with 5.6 million viewers and beat BBC One's audience for 'Spooks' last week, while war drama 'Joe Maddison's War', recorded an average audience of 6.2 million.
'U Be Dead', starring David Morrissey, won an average audience of 5.2 million, a 23% share of the audience on 5 September, and 'Bouquet of Barbed Wire' averaged 4.7 million, or a 19% share, over three parts.
Sunday night's episode of 'The X Factor' received a peak audience of 16.2 million viewers across ITV1 and ITV1 HD, which ITV said was a record for this stage in the competition.
An average 14.1 million watched the talent show from 7.45pm to 9.00pm, 48.5% of the TV watching audience.
The average audience for this series of 'The X Factor' so far is 11.4 million, up 11% on the 10.3 million for the equivalent period in 2009.