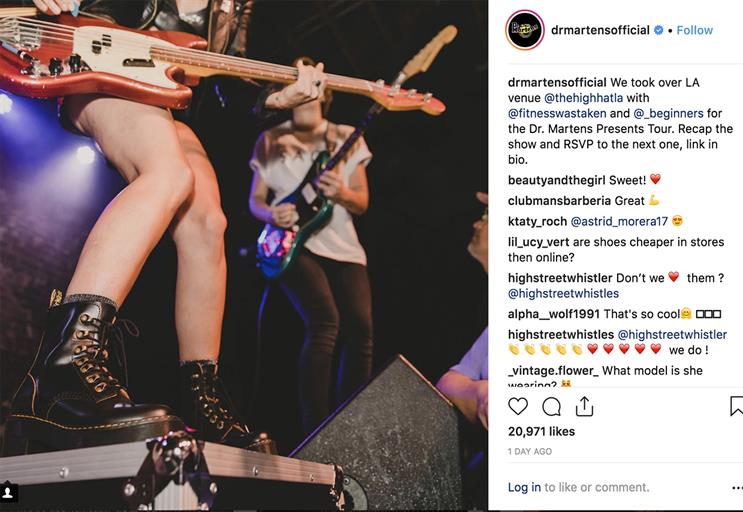 Footwear brand Dr Martens is getting the most follower-weighted engagement out of 40 UK fashion brands, including M&S and Nike, on Instagram, according to a new survey.
Retail search marketing agency Red Hot Penny ranked the brands by scoring them out of 10 in three categories: follower numbers; average number of engagements (including likes and comments) on their 25 most recent posts; and engagement rate (the average number of engagements divided by the number of followers).
Dr Martens placed highest with a total score of 27.03 out of 30, or 90% as expressed in the table below.
It scored 8.29 in the first category for its 1.7 million followers; 9.1 in the second category for the average 32,000 engagements it had per post; and 9.64 in the third category for its engagement rate of 1.78%.
The study was carried out in July and August and limited to retailers with more than 10 UK-based stores or concessions.
Russ Powell, head of marketing at Red Hot Penny, said it carried out the survey to find out which brands were best using Instagram to engage shoppers and because the steps Instagram has been taking to make its platform 'shoppable', ie. an e-commerce driver, are making it more important to brands' bottom lines.
"Brands using Instagram effectively are those being interesting, aspirational, encouraging and rewarding user engagement; lots of shoppable content and having meaningful promotions," he added.