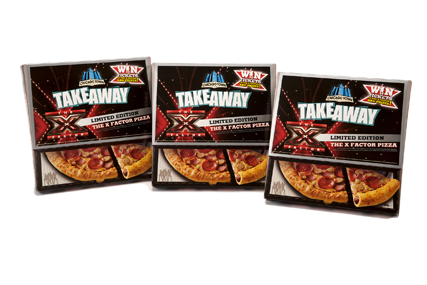 The X Factor pizza, which will be available in stores this month (August), will be priced at £3.49. It will be available until the end of the year.

It will launch under the German-based frozen food chain's Chicago Town Takeaway brand and coincide with the return of 'The X Factor' to ITV this Saturday (21 August).
Paula Wyatt, Dr Oetker marketing manager, said: "The X Factor is one of the biggest and most anticipated TV programmes of the year, attracting 19.9m viewers for last year's final. The strategy with our Takeaway brands has always been about driving new consumers into the category and building on the 'weekend/big night' eating occasion."

Dr Oetker has launched the pizza in conjunction with Freemantle Enterprises (FME), licensor of the X Factor brand.

The activity supporting the X Factor pizza, created by Cheetham Bell JWT, will include a four-week TV campaign alongside online PR and a social media campaign. Media buying is by Mediaedge:cia.

An on-pack promotion will offer consumers the chance to win a pair of tickets to watch the X Factor live every month from October.

Further promotional activity offerings include a range of merchandise such as a Chicago Town Pizza kit made up of oven gloves, pizza cutters, wet wipes and money-off vouchers.

The X Factor pizza is made with Chicago Town Takeaway's fresh dough that rises in the oven and its trademark barbeque-stuffed crust, topped with ham, sausage, onion, mozzarella, red cheddar and pepperoni.
Dr Oetker has previously launched a limited edition football-branded pizza looking to cash in the hype around the World Cup and Premier League.