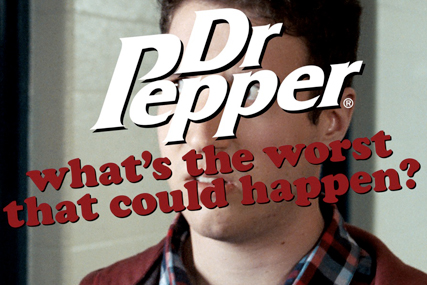 A Facebook UK fan page for the drink will host news as well as brand content, and users will be invited to play the Dr Pepper Status Takeover challenge.
Users who are willing to take part put their own Facebook status in the hands of the brand, with a chance to win £1,000. The more embarrassing the status, the greater the chance users have of winning.
The brand is also running a ringtone giveaway across 330ml cans and 500ml bottles. Consumers are again challenged to accept a ringtone, which "could be good or could be embarrassing".
The activity will be supported through TV ads, with Dr Pepper re-running its 'Nurse' and 'Over-friendly father' spots.
Coca-Cola has also agreed a three-year deal to sponsor the Tidal Wave ride at Thorpe Park theme park, introducing Dr Pepper branding, and queue entertainment will be present.
Cathryn Sleight, marketing director at Coca-Cola Great Britain, said: "The Dr Pepper, 'What's the worst that could happen?' creative has a successful nine-year heritage for the brand, and continues to resonate strongly with our teen audience.
"In 2010, we're looking to bring the message to life, giving consumers a personal experience in social environments and scenarios that are relevant to them, and appeal to their sense of humour."