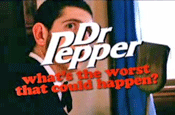 The campaign acknowledges the drink's opinion-dividing reputation, and has been titled
What's the Worst that Could Happen?
The ad will be accompanied by new packaging, designed to make the product stand out from the shelves.
Cathryn Sleight, marketing director for Coca-Cola Great Britain said: ''Dr Pepper' continues to inspire real love amongst its current loyal drinkers, but we want the next generation of brand fans to know and love Dr Pepper just as much."
Promotional packs will give buyers the opportunity to download one of 20 free random ringtones.
Underpinning the campaign, an extensive sampling campaign is set to distribute a million 150ml cans.
New packaging for Dr Pepper's latest campaign