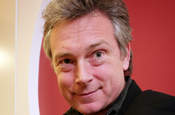 Fiddes replaces Logan Wilmont, who left the agency in September. He will now run the agency's 30-strong creative department and report to Jonathan Harries, DraftFCB's worldwide chief creative officer.
Fiddes joins following a series of senior management departures at DraftFCB, including that of Wilmont. Nigel Jones, the former chief executive, left to join Publicis in May 2008 and his replacement, Enda McCarthy, also departed later in the year to join Agency.com London as its president.
DraftFCB is currently being overseen by Alexei Orlov, the regional president for Europe and the Middle East while it seeks a London chief executive.
Harries said: "Fiddes' extensive experience as a creative director coupled with his global background in integrated marketing communications makes him the perfect choice."
Fiddes added: "DraftFCB is an agency that is purpose-built for the post-broadcast age. Brands today need creative communication across media and that is the starting point for DraftFCB; it's the only network that recognises that brand communication is a dialogue, not a monologue."