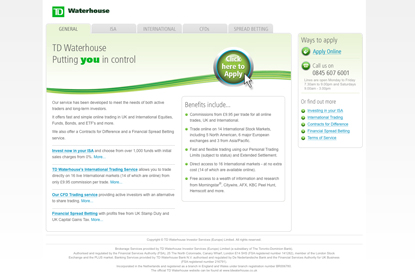 DraftFCB is understood to be the only agency left in the final negotiations with the company following a process that started in September.
The other agencies involved in the pitch were Publicis, Isobar and Amsterdam Worldwide, formerly known as StrawberryFrog.
The agency will be responsible for implementing a multimedia campaign to build the TD Waterhouse brand and promote the company's expansion across Europe, as well as promote its online brokering service for expatriates, Internaxx.
Amsterdam Worldwide has worked with TD Waterhouse since 2002, when it won the launch of Internaxx, following a pitch against undisclosed agencies. Before that, MBA handled the main TD Waterhouse business.
Brilliant Media, which was appointed to handle TD Waterhouse's media in the UK in 2006, will continue to work with the company.