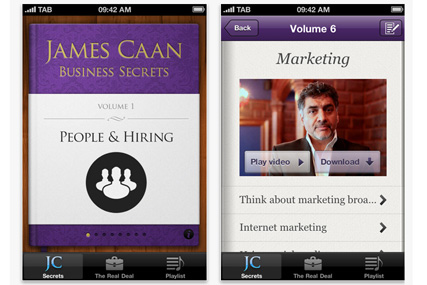 'James Caan Business Secrets', developed by Tab Productions, includes more than 100 tips in audio and video format, as well as an audiobook of Caan's autobiography.
It is advertised as free 'for a limited time only' and as the UK and Ireland app of the week.
The app claimed eighth place, one below Google Earth, which was a re-entry.
Elsewhere, Groupon has ascended to number one, two weeks after making its debut, pushing 'Britain's Got Talent' down to number two and Facebook to number three.
The Weight Watchers Mobile tool, which topped the rankings in the second week of the New Year, has made a reappearance at number 15, while British Airways has climbed three places to number 12.
This week's chart also indicates the popularity of Sky's range of apps is beginning to wane. Having at times had five different apps in the top 15 in a single week, Sky has only two this time.
The chart is powered by analytics app PositionApp developed by Ustwo, with non-commercial branded apps removed.