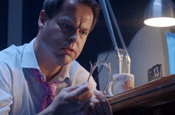 The ad, created by Swarm, follows last year's campaign starring Gordon Ramsay explaining how BT helps all business customers to do what they do best.
The new ad tells the story of a multi-millionaire entrepreneur working alone in his office. Struggling to work his computer, it emerges that the wires have been chewed.
With no IT Support available, Jones tries to explore the problem only for The Gremlins to attack the entire office leading to an IT meltdown with papers and sparks flying.
The new campaign airs on TV for eight weeks from Monday 5 May and will be supported by print, poster and online.