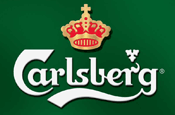 The ad, by Saatchi and Saatchi, showed the man using the Carlsberg Draughtmaster at a barbecue.

The voiceover on the ad said: "Probably the best barbecue accessory in the world.

The ASA said: "We concluded that the depiction of the Draughtmaster for outdoor use was inaccurate and could mislead viewers."

The ruling followed a complaint from a customer who bought the Draughtmaster and read the instructions, which stated the product was unsuitable for outdoor use.

Carlsberg has agreed not to show the ad again.