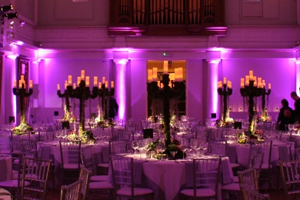 The ceremony is taking place at One Marylebone on 13 June, where the stage and set first appeared in films Les Miserables and Fast and Furious 6.
Dresd was set up by Lynn McFarlane at the start of last year and aims to promote sustainability within the broadcast industry.
McFarlane salvages waste materials from film and television sets, reducing the amount of waste goods that would have ended up as landfill. The items are then sold on, or recycled and repurposed for use in event production and education programmes.
For The Observer Ethical Awards, the pulpit, stage front staircase and upstairs lounge seats are all from Les Miserables; the stage pillars are off Snow White and the Huntsman; the staging backs and upstairs lounge lighting first appeared in BBC Kudos' The Hour; and the stage flooring and all the paint is from Fast & Furious 6.
McFarlane said: "The Observer Ethical Awards is the most prestigious annual event; better known as the 'Green Oscars'. It brings together all that's ethical in the UK into one arena, celebrating efforts and achievements throughout the UK. Dresd adds to the awards by setting the scene, utilising waste materials off film sets, carefully designing the space not only to show off the beauty of what Dresd represents, but to enhance the architectural beauty of the space."
For more on The Observer Ethical Awards don't miss Events Buzz in the July/August issue of Event magazine. You can get it by subscribing here.