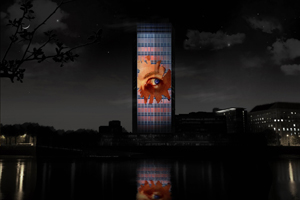 The event will launch the Nokia Lumia 800 phone with Windows. Deadmau5 will perform in front of Millbank Tower to a backdrop of 4D 400-foot butterflies and Nokia Lumia 800 phones.
The event takes place on 28 November and will be free for all spectators, who will be able to view the half hour performance from the north and south sides of the Thames.
Lights in the 120m high tower, surrounding buildings and streets will all be switched off during the projections.
Deadmau5 will be performing two new remixes created especially to accompany the projections, which will be played for the first time and broadcast live here.
Nokia's director of marketing John Nichols said the launch signals "a new dawn" for the company. "We wanted to celebrate this with a truly innovative and spectacular event. The location will allow thousands of people to come and experience something truly amazing and different to anything they have seen before," he said.
Deadmau5 commented: "Visuals have always been an important part of my shows, so the chance to work with Nokia and its projection team on a project of this scale and ambition is really exciting. It's also great to be able to play such an iconic landmark and to a UK crowd."
To leave a comment register and let us know your thoughts.