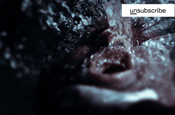 The new 90-second spot recreates the waterboarding of a prisoner, a technique which has been used by the USA against combat prisoners.
It was directed by Marc Hawker & Ishbel Whitaker of Dark Fibre Films, the Oscar-shortlisted producers of Rize.
Drugstore Managing Partner Marc Cave said: "Imagine sitting in a darkened cinema and seeing this film. "It'll lull you, then unnerve you, then gobsmack you."
Extreme performance artist Jiva Parthipan underwent a short period of waterboarding to create the ad.
The Stuff of Life opens in 50 Picturehouse cinema screens nationwide from 9 May. It was filmed at 1,000 frames per second using one of only two Phantom HD cameras available in Europe.
CreditsProject:
UNSUBSCRIBE 2008
Client:
Sara MacNeice - Campaign Manager, Terrorism, Security & Human Rights
Brief:
Encourage people to unsubscribe from the CIA 'enhanced interrogation technique' of waterboarding
Creative Agency:
Drugstore
Writer:
Marc Hawker
Art director:
Marc Hawker
Producer:
Jennifer Jackson
Directors:
Marc Hawker, Ishbel Whitaker
Production Company:
Dark Fibre Films
Water Effects:
Pennicott Payne
Music:
Adam Freeland
Post Production:
James Maclachlan at Prime Focus
Website design:
Sam Collett, Russell Schaller