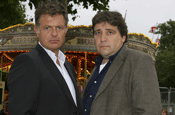 Munday and George will work with Aegis' UK businesses, including Carat and Vizeum, on creating, sourcing and managing entertainment properties. As part of this they will create "alternative" content for brands across traditional and new-media platforms.
In response, PHD has promoted Mark Eaves, the managing director of Drum Screen, its branded content unit, to the post of managing director of Drum. It has also hired Rupert Britton as content strategy director. Britton, who will work in PHD's Consult division, was previously director of consultancy at Decipher, an interactive content agency.
Munday and George launched Drum in 1994 and sold the business to PHD in 1997. They have worked on a range of sponsorship and content projects for clients including Sainsbury's, Adidas and The Guardian.
Nigel Sharrocks, the chief executive of Aegis UK & Ireland, said: "Opportunities to communicate with consumers extend way beyond above-the-line advertising and we want to ensure we are right at the forefront of these alternative solutions. Simon and Laurence have proved over the years to be the very best in the business and we look forward to them being part of the group."
The launch of Space coincides with Aegis Media launching a global division called Service Solutions (The Week, p5), which will work on its offering to clients.
The departures of Munday and George from PHD follow those of the agency's two remaining founders, David Pattison and Jonathan Durden, both of whom have left the agency over the past 12 months.
PHD's management team, led by chief executive Morag Blazey and managing director Daren Rubins, have since brought in new faces including Mediaedge:cia director Ian Redman and Starcom director Luca Margarito as managing partners.