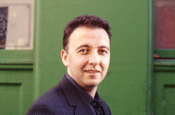 The company, to be called Another Anomaly, will launch its own products and intellectual property as well as promoting established brands. While it will use traditional advertising methods, its aim is to look at non-traditional ways of promoting brands to wider audiences across all media.

Bird, currently the vice president of brand partnerships at Sony BMG, will be joined in the venture by Natasha Jakubowski, a partner and strategic director at innovation consultancy Redscout.

Its first clients include Coca-Cola, the Association of American Advertisers and Sony BMG. It is also launching a global skincare product called Eu -- pronounced 'You' - in which it will own a majority share.

Another Anomaly will operate entirely independently from the original Anomaly agency. Bird, who left Soul in 2005 when it was bought by Nitro, will move to New York at the end of the month.