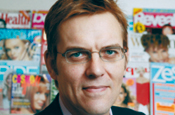 LONDON - Duncan Edwards is leaving his role as the chief executive of The National Magazine Company to become president and chief executive of Hearst Magazines International.
Edwards, who will relocate to New York, takes up his new position on 1 February. He succeeds George J Greeen, who retires at the end of June, following a handover period.

NatMags said an announcement will be made in due course on Edwards' replacement.

Edwards, who has been the chief executive of NatMag, a wholly owned subsidiary of Hearst, since 2005, will move to New York during the summer.

Edwards joined NatMag in 1989 and has served in various executive roles, including publisher of Company magazine, director of business development and managing director.

Hearst Magazines International handles Hearst Magazines' non-USA and non-UK businesses and will in future also include the NatMags, Hearst's principal business in the UK.