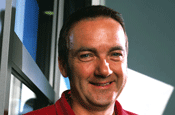 "Televisionaries: The Thinkbox Forum 2008" is being held on Thursday 20 November at 1 Marylebone Road in London, and will be hosted by Krishnan Guru-Murthy, the presenter of Channel 4 News.

The event will explore two themes: "The Future of Viewing" and "The Future of Brands on TV". Other speakers include Roisin Donnelly, the corporate marketing director and head of marketing for Procter & Gamble UK & Ireland, Nick Gill, the executive creative director at Bartle Bogle Hegarty, and Marie Oldham, the head of strategy at MPG.

It will include filmed contributions from industry luminaries including Alan Bishop, the chief executive of COI, Ashley Highfield, the chief executive of Kangaroo, and Elisabeth Murdoch, the chairman and chief executive of Shine.

At the forum, Thinkbox will also reveal findings from the first stage of its research into online TV.

There will be a panel debate involving Thinkbox board members Nick Bampton, the managing director of Viacom Brand Solutions, Nick Milligan, the managing director of Sky Media, and Mark White, the executive director of sales and acting chief executive at FIVE.