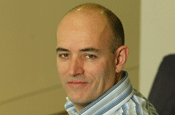 Speculation over George's future has been rife for several months, and the announcement of his departure follows weekend reports that GCap will report bleak full-year trading figures on Wednesday.
George, previously sales director of GWR's Opus sales division, was made commercial director of GCap following the merger of Capital Radio and GWR in 2005.
His appointment coincided with a rapid downturn in GCap's sales revenues as national sales revenues across the whole radio industry declined. His other area of responsibility was to oversee GCap's digital revenue strategy.
George, who was previously linked with a senior role at radio trade body The Radio Centre, said: "The time feels right to move on and explore new opportunities and I can leave safe in the knowledge that GCap is now in great shape."