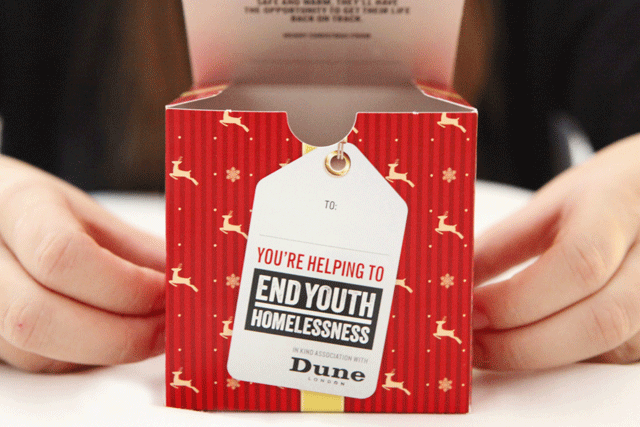 Founded, the communications agency, has created a campaign called "Christmas in a box" which allows customers to buy a flat pack festive box for £5.
The boxes will be available in Dune stores from today. Customers can personalise them to mark the donation and then give the empty box to their friends and family to show a donation has been made on their behalf.
The agency will be promoting the campaign through its Twitter handle @foundedlondon.
The agency developed the campaign as part of the Founded Trust. It donates 5 per cent of its resource to charity.
Nick Connolly, the head of corporate development at Centrepoint, an End Youth Homelessness charity, said: "It's frightening to think that 15,000 young people face homelessness this Christmas.
"The very least they deserve is somewhere safe and warm from where they can plan for the future.
"The Christmas in a Box campaign shows Founded understand Christmas is not just about giving, but giving back.
"The Founded Trust is a great initiative and we're extremely grateful to the Founded team for their hard work in helping make a difference."