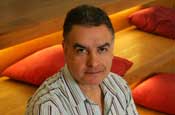 The former PHD president joins MCBD as a partner with a brief to help the agency on new business pitches and advise on acquisitions and business development. He will also work closely with Giles Hedger and Andy Nairn, the MCBD joint planning directors.
Durden said: "I've done 30 years of media and I think I deserve a change. I'm thrilled to be joining MCBD and know that the succession management at PHD leaves the company in good shape.
"MCBD is ambitious and has strength across the board. I'm going to inject some energy into it and help it grow."
The MCBD founding partner, Helen Calcraft, added: "Jonathan is a unique talent. He was inundated with offers both inside and outside the industry and we are thrilled and honoured that he has chosen MCBD."
His appointment reunites him with the MCBD founding partner, Jeremy Miles. The pair worked together on BT in the early 1990s when Miles ran the account at Abbott Mead Vickers.
More recently, Durden worked with MCBD and the public relations company Band & Brown on the successful joint pitch for the Edge Foundation, an organisation that aims to change perceptions of vocational learning among 14- to 25-year olds.
Durden's departure marks the end of an era at PHD. He is the final founding partner to leave the agency. Last year, David Pattison resigned as worldwide chief executive to join the i-level holding company ILG Digital. Nick Horswell left the agency in 2001 and now runs the consultancy Uncle.
Durden leaves PHD in the hands of chief executive Morag Blazey and managing director Daren Rubins. The PHD chairman, Tess Alps, left last year to head up Thinkbox, the television marketing body.