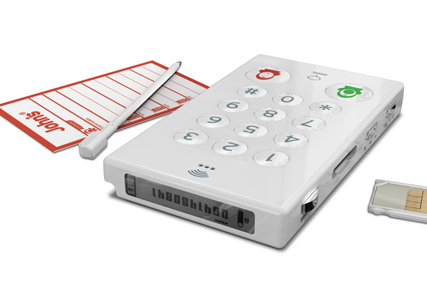 Slightly smaller than a smartphone, the chunky plastic John's Phone comes in a variety of colours and includes a pad of paper attached to its back to record numbers. It costs £59.
The creatives say they spotted a gap in the market for a non-smart phone that just allows the user to make calls.
Diedriekje Bok, John Doe creative, said "With an abundance of choices and information channels operating, it's nice to develop a simple gadget. It is also a useful phone for travelling, exercising or weekend sailing.
"With John's phone, you always reach your close family and friends, so the rest of the world on your smartphone does not matter. John's phone can be used when your smartphone is empty or if you're in a distant country."
Connectivity and technology are driving the huge uptake of smartphones, with Apple's iPhone and iPad taking the lead.
John's Phone comes unlocked as standard and has a hands-free earpiece. It can be used in any country of the world except Japan and South Korea. Up to 10 quick-dial numbers can also be stored.