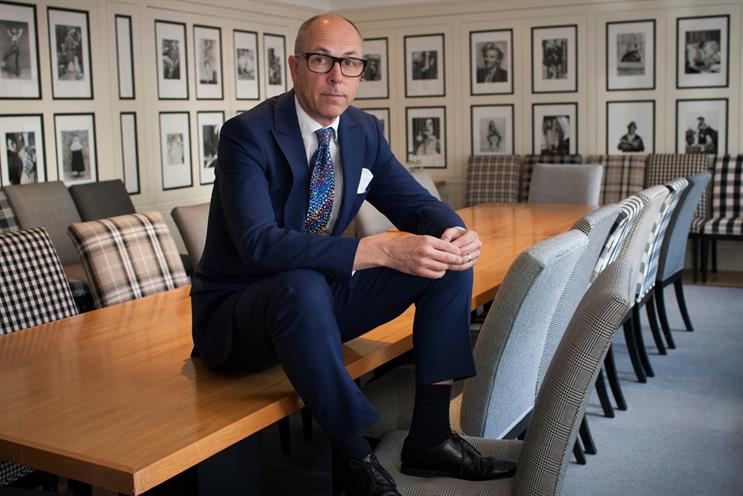 When I inherited the magazine, I thought GQ stood for so many things but I didn't think it was particularly renowned for its journalism, so that was basically my thing," Dylan Jones says.
In a sea of change, Jones has been the editor of the UK edition of GQ – one of magazine publishing's notable survivors – for 15 of its 25 years. Nearly 1,000 magazine titles have left our newsstands since 2008, while adspend directed towards the remaining 2,500 or so has more than halved.
Within the maelstrom, GQ's intelligent take on style and culture continues to attract readers and a regular roll call of luxury brands, from Dior to Louis Vuitton and Rolex to Cartier.
The magazine's combined print and digital circulation has been remarkably resilient, bucking all trends to grow by 3,000 copies over the past ten years to 127,040. But this has not been achieved by standing still.
"In the last four years, our business has been completely transformed," Jones says. "We have had to reinvent what we do. It is a digital revolution, and there will be winners and losers."
Among the biggest losers have been the "lads' mags", the testosterone-fuelled rivals that had once dwarfed GQ. When Nuts closed last month, it joined a scrapheap that includes Front and Maxim, while FHM, which used to sell 750,00 copies per month, has slipped below 100,000, and Loaded no longer bothers to even count.
"I hated those magazines and I'm glad they're gone," Jones says. "However, I have to say that they did bring a lot of early adopters and a lot of young men into the market."
The editor admits some people around him are concerned by the speed with which the market is shrinking, but notes defiantly: "That doesn't bother The Economist; it's number one in a market of one. I like to think of GQ in exactly the same way."
In an age defined by shrinking editorial budgets and terms such as "snackable content" that attempt to boil journalism down to some kind of fast-food binge, GQ's commitment to long-form copy sets it apart.
The thoughts of Matthew d'Ancona and Tony Parsons jostle for space with interviews with the Westminster elite, Ed Caesar's award-winning war coverage and features from Rupert Murdoch's bête noire, Michael Wolff.
Investment has continued in 2014, with Alastair Campbell taking up the mantle of chief provocateur. "He has only done two published pieces for us [on Nigel Farage and Alex Salmond] and they have both kicked up an enormous amount of dust," Jones says, breaking his cool to chuckle joyfully. "He's doing exactly what I have asked him to do, and his third piece – on Mario Balotelli – is equally incendiary; it's great."
But in this digital revolution, it is difficult to view GQ as being anything other than late to the party. For years, its site was little more than a subscription platform with teaser content. During the noughties, its slow progress mirrored the reticence from many luxury advertisers to make the move online.
However, the situation has changed over the past three years. GQ's iPad app now has more than 12,000 subscribers and most of its print advertisers are reported to be seeking an online presence on GQ.com, which attracts more than one million users a month.
For Jones, the current focus is on the brand's smartphone app that launches next month, and the editorial team has helped drive the project. "I've always encouraged our team to be commercially proactive, but now I think there is a real imperative," he says.
This willingness for editorial to engage with commercial has helped create GQ's comedy strand, which includes a star-studded event, in addition to supplements focusing on the best-dressed to the most-powerful men, as well as the best food and drink.
"We come up with the idea and we go out to find a sponsor," he says. "That means that we are adding real value."
I've always encouraged our team to be commercially proactive, but now I think there is a real imperative
The magazine business has been good to Jones, who received an OBE in 2013 for services to publishing and fashion. He admits to still being "completely" obsessed by it and claims the digital revolution has helped maintain his enthusiasm.
But the seasoned editor, who began his career on i-D in 1983 before stints at Arena and The Face, is concerned by the current consolidation. He says: "Even three years ago, if my daughters had expressed an interest in going into journalism, I would have encouraged them. I'm not sure I would any more.
"Every week, I'm seeing men in their thirties, forties and fifties who have just been fired by a national newspaper looking for a job, and they might never work [in the industry] again…"
Yet Jones, a strong contender to win the PPA's Editor of the Year this summer, shows no sign of letting up in the near future. He dismisses reports that tip him to be the next editor of Vanity Fair in the US as "conjecture".
He concludes: "This is the job I do and I love and, unless you know something that I don't, I'm not anticipating leaving any time soon."