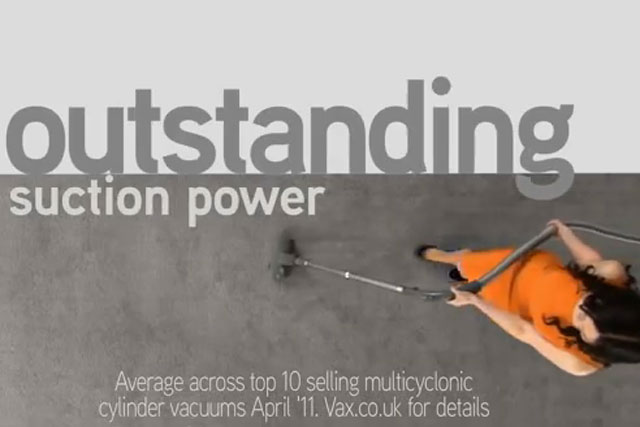 The TV ad by The Black Arts Company for the Vax Air Cylinder aired on 9 October last year.
Its voiceover stated: "Just because you're a small one, it doesn't stop you doing what the big ones do.
"This is the remarkable Vax Air Cylinder. It's light, compact, with outstanding suction power and 60% more capacity than the average multicyclonic cylinder."
The accompanying on-screen text read: "Average across top 10 selling multicyclonic cylinder vacuums April 11."
The voice-over then referenced the product's suction power and capacity, adding, "The Vax Air range. It just goes to show no matter how small you are, performance is everything."
Dyson challenged whether the "outstanding suction power" claim and the on-screen text was misleading and could be substantiated.
Dyson argued that Vax Air Cylinder was ranked sixth in a top 10 list of best-selling cleaners and therefore did not constitute being outstanding.
Vax backed its claim by saying the list was produced from the GfK Hitlist, the defining body that monitors sales volumes for the floor-care industry.
It defended it claim of "outstanding suction power" by saying it was well above the average, pointing to the average suction power across the top 10.
The advertising watchdog ruled against Dyson's claim and in favour of Vax.
The ASA said it understood why Dyson had challenged the claim as some consumers would understand the word "outstanding" to mean the Air Cylinder had the best suction power in the top 10.
But the ASA judged that it was not misleading, if the evidence demonstrated that the Air Cylinder's suction power was higher than the average.
It ruled that the ad should not be banned.
Follow John Reynolds on Twitter @johnreynolds10