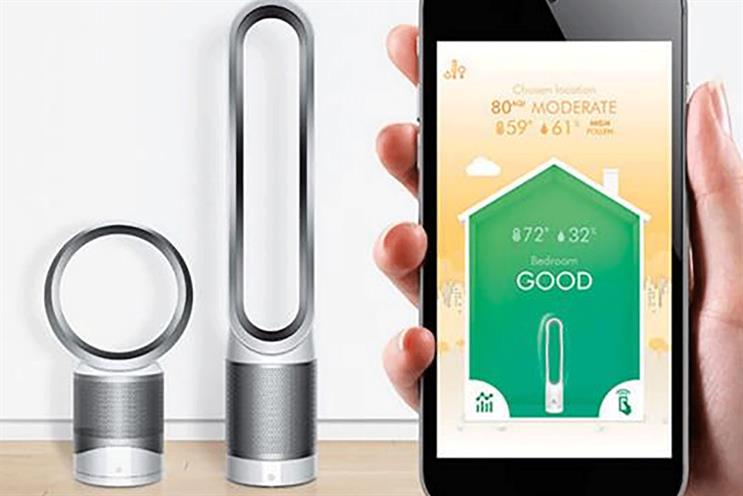 Dyson's pollution-busting Pure Cool Link marks Internet of Things debut
Dyson has launched an air purifier designed to rid household air of smells and pollutants including pollen, with the Dyson Cool Link system connected to Wi-Fi to enable users to activate it and monitor air quality.
The Pure Cool Link fans are available in desk or tower versions and mark a significant upgrade on Dyson's existing fans by adding an ultra-fine filter that removes impurities from the air before sending it around the room.
The accompanying app will provide information on air quality, humidity and temperature via users' mobile phones, also allowing them to set air quality limits and start the fan remotely.
It can clean the air, capturing up to 99.95% of pollutants, in a room in between 30 and 60 minutes as well as monitor air quality.
James Dyson, the company's eponymous founder, said: "We think it is polluted outside of our homes, but the air inside can be far worse. Dyson engineers focused on developing a purifier that automatically removes ultrafine allergens, odours and pollutants from the indoor air, feeding real time air quality data back to you."
The fan can rid rooms pollutants from tobacco smoke, cookers, fires, moulds and household chemicals.
Source: various
Aldi embroiled in biscuit contamination scare
Consumers have been warned not to eat a number of Aldi own-brand biscuits because they may have been contaminated by pests, according to the Food Standards Agency (FSA).
The biscuits, which include Aldi Cheese Thins, Aldi Oddbites Smoky Bacon and Happy Shopper Choc Chip Cookies, were made by Middlesborough-based manufacturer Baketime.
Baketime said that while there was no evidence of contamination, it had seen "evidence of pest activity" in January and in March. The company added that it was recalling the biscuits and snacks as a precautionary measure.
The FSA said that the foods had been manufactured in "unhygienic conditions" and that it was investigating further.
Source: BBC
Catch up with some of our longer reads...
It's tempting (and useful) for marketers to put people in neat demographic boxes. But, as consumer lives become more fluid, age-agnostic and globally minded, is it time to put a stop to generational generalisations, asks Rebecca Coleman.
At a time when parenting is endlessly interrupted by digital communication and social media, brands must beware of exacerbating the pressure on women, writes Nicola Kemp.
If you watch one video today...
...hear what the public think of the Conservative government spending £5m to promote the new National Living Wage.