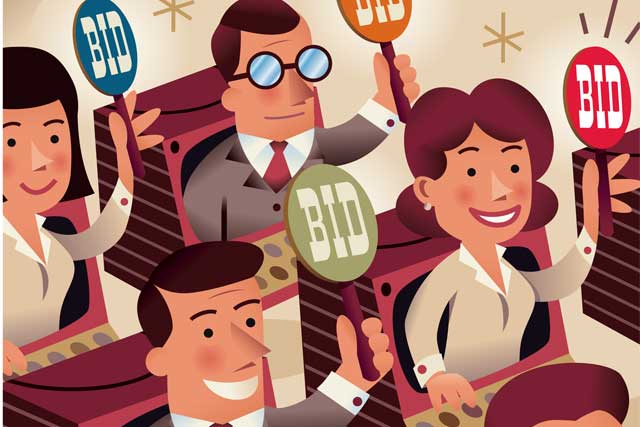 Pitches. We all do them. Most of us like them, in a slightly unhealthy way. We win some and we lose some. Like gamblers, we tend to forget the losses - but not the reasons for losing. Those reasons vary. But, usually, if we are honest (and, after a loss, this can take a few wounded weeks to emerge), it is because we have been outdone on the day.
But, recently, I chose to lose. This was a first for me. And it was hard to walk away from. It was a big brand that would have been a huge win for any agency - let alone an independent such as Profero. It was not an easy decision to make. It hurt.
So, why? After all, we'd exhaustively pursued victory against eight agencies. We'd invested tens of thousands of pounds and countless hours to get through two formal pitches and being shortlisted down to three agencies. We'd then seen the team do an outstanding final pitch and received those encouraging post-pitch calls seeking clarity on costs that are always the beginnings of the final courtship dance. I then received a call that changed everything.
The client call
I will confess that, when I saw the number come up on my mobile, I thought this was it - we have won. Instead came a rather embarrassed voice telling me the final hurdle to deciding the winner of the pitch would be a procurement-run e-auction, based on the pricing of projects. What? I had never ever been confronted with such a process before. And it had never been mentioned as a possible selection criterion at any point in the pitch.
I urged the prospective client to make a decision based on the criteria they had set out at the beginning. I pointed out that their brand had never marketed itself to be the cheapest - in fact, an IPA Effectiveness Grand Prix-winning case study demonstrated otherwise. I also pointed out that Profero had not been launched to be the cheapest and we had never stated such an ambition in the pitch. The argument in return was that this was only one further selection criterion among many. I asked to speak to the head of procurement for clarity. He made it clear - the agency that came out of the blind e-auction cheapest would be appointed.
Walking Away
So we walked away. Secretly, we hoped that the other agencies would walk away as well. At least one did not. And, to be fair, that is their choice.
I cannot stress what a big financial decision it is for the owners of an independent agency to walk away from not just the prospect of such a big win, but also the sunk costs that have already gone into the pitch. But we felt we had to. As a matter of principle, we would not do an e-auction whose sole criterion was to discover the cheapest agency for the job. If this had been made clear at the start of the process, we would never have pitched. We would never choose to be valued this way.
Thomas Edison once said: "The value of an idea lies in the using of it." The choice to appoint an agency is not only a belief that it can solve the problem or create a new opportunity, but also a belief that it can implement it. The true value is the deeds that follow that make the idea real. And these deeds are as much about the partnership that follows between client and agency.
An e-auction cannot account for this. It can find the cheapest commodity - a unit of gas, building materials - and, as such, is a tool rapidly growing in use and influence among procurement globally. It clearly works in terms of driving down the cost of goods and services (and, in some parts of the world and in certain industries, much-needed transparency).
But I do not believe communications and enterprise technology are such services. There is too much complexity at the pitch stage between the "idea" and the "using of it". But, more importantly, we are not selling a commodity - we are selling human capital and we owe it to this human capital to never let it be commoditised. Fortunately, this is a belief many clients, and those in procurement, also hold.
Clear guidelines
If we all said no to the practice of e-auctions, it could never be practised. I am not so naive as to believe this will ever be the case. But, at the very least, it should be made clear at the outset that an e-auction will be used as part of the selection criteria and it should only ever be one part of the judgment criteria. I also urge intermediaries and ISBA members to come together with the IPA to reach a shared agreement around this practice.
In the meantime, the IPA has issued a reminder to clients and agencies of the six pitch principles, produced jointly with ISBA, that they should follow when embarking on the pitching process, as well as fresh considerations to take into account when dealing with procurement-led pitches and the use of e-auctions.
One of these original principles that firmly applies to this practice is respect. It is only good, respectful pitch manners to be clear and upfront about e-auctions.
After all, manners are free; walking away from hard-fought pitches is not.
Dale Gall is the chief executive at Profero and a member of the IPA Council.
SIX PITCH PRINCIPLES
1. Openness and transparency
Both sides need to be honest about the opportunity. Transparency is imperative all the way through the process - generally, in most pitches, there is an unnecessary level of secrecy. Why keep the names and number of agencies, budgets, timeframes and resource a secret?
2. Respect
Treat pitching with the respect it deserves. It requires senior involvement/authority from both sides from day one. Don't just bring the decision-makers in at the end of the process. Only with senior client involvement from day one can the agencies be judged fairly.
3. Bravery
Clients and agencies need to be brave when managing a pitch process. Clients need to say no if agencies try to squeeze last minute on to pitchlists. Agencies need to be brave and firm with clients and push back if there is little clarity in the brief or if it is poor, or if timescales are too tight or, indeed, too protracted.
4. Access and navigation
Clients have to understand that, for the pitch to be successful, they need to make themselves available for the pitching agencies.
5. Timing
Pitches can often go on for too long. Set a timescale and stick to it where possible. A creative pitch in four weeks may not always be possible, but it could be worth aiming for.
6. Power of collective action
At the very least, remember the "five Ps" of pitching: process, preparation, professionalism, partnership and payment.
Source: IPA/ISBA, www.thegoodpitch.com.