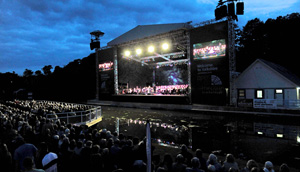 The newly redeveloped theatre was opened by the Queen in May 2010 and kicks off its 2011 season with a sold-out Elton John concert on 5 June.
For 2011, the capacity has been extended from 6,500 to 8,000 using temporary decking to bridge the lake that sits in front of the stage.
"This is a great piece of work for us, we're all used to consulting on and managing the production and site issues around large public venues, there have been some licensing and noise issues to address for the 2011 season, but things are on track and we're looking forward to a busy and successful summer," said E&MS managing director Pete Allison.
To leave a comment register and let us know your thoughts.