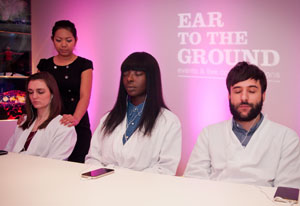 The company, which has just made six new appointments, challenged its creative team to design a unique welcome for the new starters communicating the values of the agency.
The result was From the Ground Up, a relaxing experience in which inductees listen to a specially created piece of music with a meditation-style voiceover while getting a massage.
"Let's face it, staff inductions are essential but generally boring. We wanted to make people remember their first day at Ear to the Ground. We put authentic live experience at the heart of everything we do and from now on every new member of staff will get sensory induction on their first day at the agency," explained Steve Smith, MD at Ear to the Ground.
Clare Goodchild, Tamer Rustum, Ben Johnstone and Claire Roberts have all joined as account managers. Henrietta Rolla-Smith has been employed as the office lynchpin and administrator, while Pamela Tierney Wigg becomes finance manager.
To leave a comment register and let us know your thoughts.
For more in-depth industry features, showcases and interviews with the world leading brands don't miss the next issue of Event magazine by subscribing here.
Tweet