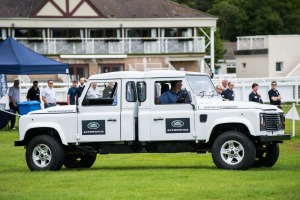 Earth Ball
Launched by The Lensbury, the Earth Ball teambuilding activity involves using a two-metre high inflatable to develop trust and teamwork through a variety of exercises and games. It has a variety of uses, from crab and zone football to volleyball, dodge ball, ball crawl and ball pass.
Minimum numbers are 12, maximum 60 and participants with any level of fitness can join in and each session lasts one and half hours. The Lensbury offers a wet weather contingency as the Earth Ball can be played inside in the Riverside Pavilion near the river Thames.
www.lensbury.com
Land Rover Experience Scotland
Land Rover Experience Scotland is now working with Perth racecourse and its in-house caterers Sodexo Prestige to offer a day of team building and dining. Last month the racecourse welcomed its first 100 guests from across Scotland to put the new partnership to the test.
The day included six different activities including; blindfolded Land Rover driving, vehicle circus driving where a two front ended Land Rover with a clutch and break at one end and the gears in the other were driven around a course, a blindfolded obstacle course, an inflatable human table football, two rodeo bulls and a bungee slide, all of which helped delegates work up a hearty appetite for the specially designed menu of locally sourced and highly nutritional food.
www.prestigevenuesandevents.sodexo.com