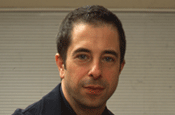 He will return to the UK as non-executive director at Agency.com before staring his new role in the summer.
Eastman became worldwide chief executive of Agency.com in March 2006. In May this year, he was made president of international, with a remit to head up the agency's international expansion plans.
This role will now be filled by Andy Hobsbawm, the European chairman of Agency.com.
Hobsbawm, who has adopted a more hands-off role at the agency for the past year, will retain his current title but will now take on responsibility for implementing growth of the Omnicom-owned interactive agency in international markets.
Eastman's appointment follows the news last month that Brooks was leaving the network to start up his own digital agency (Campaign, 18 May). One week later, Jon Claydon resigned from his position as chairman of Claydon Heeley and executive chairman of Zulu.
Anthony Wreford, the president and chief executive of DAS Europe, said that no decision had yet been made on Claydon's replacement.
Eastman said: "I'm thrilled, the great thing for me personally is that I'm staying in the Omnicom family and still staying involved with Agency.com. Zulu has a really interesting combination of agencies that Jon and Martin have pulled together so I'm looking forward to continuing the great work they've done."
The move coincides with a management restructure at Agency.com's London office, which will see Russell Marsh, the head of client services, take on the position of managing director of the agency's London office. He replaces the current managing director, Alex Wright, who is taking a part-time role as deputy managing director.
Both Hobsbawm and Marsh will report to Chan Suh, who has returned to his former role as worldwide chief executive of Agency.com.