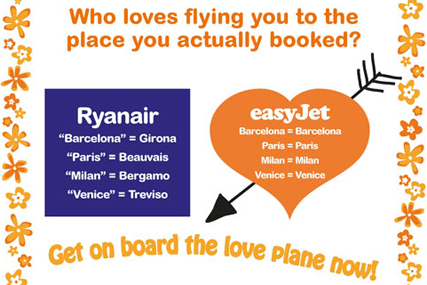 The outdoor ad featured the tagline 'Who loves flying you to the place you actually booked?', implying that Ryanair flies to airports some distance from the supposed destination city.
Under the heading 'Ryanair', the ad said 'Barcelona = Girona, Paris = Beauvais, Milan = Bergamo, Venice = Treviso'.
In comparison, under the heading 'easyJet', the airline claimed 'Barcelona = Barcelona, Paris = Paris, Milan = Milan, Venice = Venice'.
Ryanair complained to the ASA that Beauvais, Bergamo and Treviso had been officially designated as airports for their corresponding cities by the International Air Transport Association (IATA).
The budget carrier also said it always advertises Girona as 'Girona (Barcelona)', rather than 'Barcelona (Girona)'.
The ASA upheld the complaint on the grounds that the airports Ryanair fly to have been designated by IATA as airports for Paris, Milan and Venice respectively, and advised easyJet to seek copy advice from CAP for future campaigns.
EasyJet UK general manager Paul Simmons said he was "disappointed" by the ruling.
He said: "It is a well-know fact that easyJet flies to major airports whereas Ryanair serves out-of-town airfields which can be a two hour bus ride away from your destination."
It is a rare meeting of minds between Ryanair and the ASA, which in April 2008 referred the carrier to the Office of Fair Trading after nine breaches of the advertising code in a two-year period.
The adjudication also marks the latest in a series of disputes between the two airlines. Last month, a legal row erupted as a result of a Ryanair ad which depicted EasyJet founder Sir Stelios Haji-Ioannou with a Pinocchio-style long nose.
But it appears that no-one from easyJet has complained to the ASA about the ad.
A spokeswoman for the ASA said it had received three complaints about it. However, as all three complaints stemmed from private individuals, rather than easyJet or Haji-Ioannou, the ASA decided the ad was unlikely to cause serious or widespread offence and did not pursue the investigation any further.