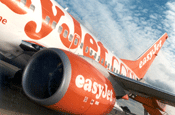 The ad stated that the budget airline's prices were "up to 65 per cent cheaper than BA".

However, none of the example fares quoted in the ad were as cheap as this.

A ruling by the Advertising Standards Authority said: "Because none of the easyJet fares quoted in the ad represented a saving of up to 65 per cent on the BA fares, we concluded that the headline claim could mislead."

EasyJet said that, due to human error, it had been unable to trace the relevant subsantiation for the ad, but maintained that its flights were 65% cheaper than BA in many instances.

The ASA ruled the ad must not appear again in its current form.