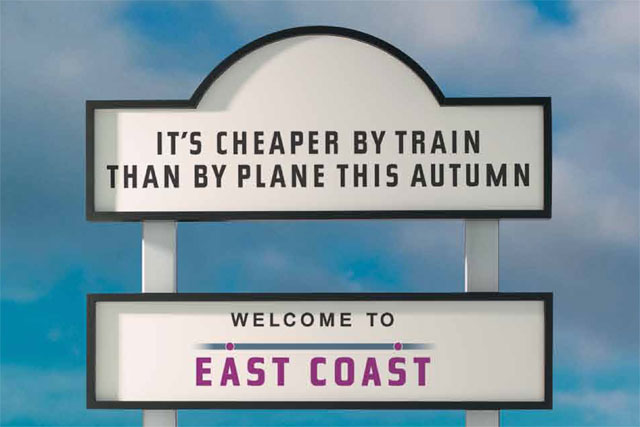 However, the train operator claims it was later able to rerun the ad after addressing the ASA's concerns over the completeness of the dataset it was based on.
The airline submitted the only complaint about the ad, which was spotted on 19 October last year and was created by Abbott Mead Vickers BBDO.
The copy read: "It's cheaper by train than by plane this autumn...We checked and 79% of flights had a cheaper East Coast train alternative."
Small print stated: "2,643 flights were checked on 24 August 2011, for flights from Edinburgh to London.
"2,095 of these flights (79.3%) had a cheaper rail alternative arriving into London King's Cross within 1 hour of the flights scheduled arrival time.
"Travel dates checked were from Thursday 25 August to Friday 11 November 2011 inclusive.
"The following dates were excluded due to the rail timetable not being finalised: Sat/Sun 29-30 October, Sat/Sun 5-6 November 2011. All London airports and applicable airlines are in included in the comparison."
EasyJet challenged the basis of the comparison, though East Coast explained to the ASA that it believed it had made a "perfectly valid claim".
It provided the raw data, which included all the flights and all the rail fares included in the search, which it believed demonstrated that, from the total of 2,643 flights, 2,095 had a cheaper rail alternative, which equated to 79.3%.
However, the ASA believed that the data did not include flights available from one airline that offered regular services from Edinburgh to London, which it said had been "inadvertently excluded from the original search".
Because the comparison had not included all of the relevant data, the ASA considered it was not possible to verify whether the "we checked and 79% of flights had a cheaper East Coast train alternative" claim was accurate.
It therefore concluded that the ad was likely to mislead consumers and ruled it should not run again in its current form.
East Coast has since ensured the ad includes all flights between Edinburgh and London and has used it again.
Peter Williams, East Coast commercial and customer service director, said: "We fully accept its assessment that our original advert was misleading due to the omission of one airline's statistics.
"Following discussions with the ASA, the advert has been used again and includes all flights between Edinburgh and London. The new calculation actually shows that trains are cheaper than the airlines more of the time, increasing from 79% to 81%."
Follow Daniel Farey-Jones on Twitter @danfareyjones