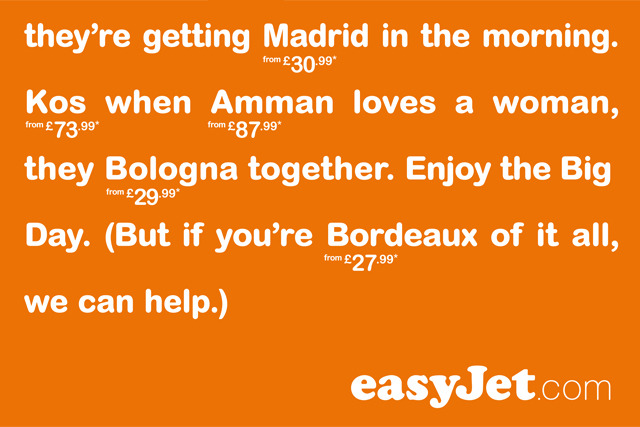 The light-hearted ad, created by Publicis London, is running in national newspapers today and tomorrow.
The ad is based loosely on the love story between Prince William and Kate Middleton and includes double entendres that incorporate the airline's destinations.
The ad begins "When they first met he thought, I like her. I fancy her. Almeria. But people said you're Faro too young to get married. So they Split".
The prices for the flights to the destinations are displayed underneath the place names. The ad ends with the line "Enjoy the big day (but if you're Bordeaux of it all, we can help)".
Publicis London creative team Sam Butterfield and Alex Shapowal were behind the ad along with creative director Adam Kean. The ad was produced by Lisa Cotterell.
At the beginning of the year EasyJet put its £20m pan-European advertising account up for review.
Earlier this month it emerged the airline was set to appoint Chime Communications Group-owned agency Icon, ending its relationship with Publicis. The agency will however continue to work with the airline for the next few months.