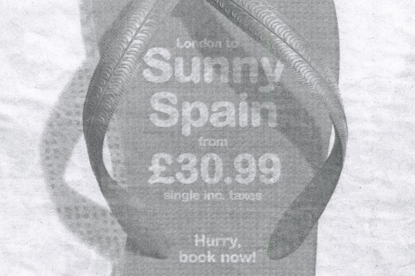 One of the ads featured an image of a flip-flop and the text: "London to Sunny Spain from £30.99 single inc. taxes. Hurry, book now!" Further text stated: "…not all routes flown from all airports."

The second ad showed a ski mask and the headline "Winter fun." Additional text stated: "NEW from Gatwick Helsinki Salzburg Basel Lyon. Old favourites Geneva Milan Grenoble from only £29.99 single inc taxes."

BA challenged whether the ads were misleading as certain details were missing, such as the London departure airports, travel period for the offers, availability of the advertised fare of £30.99 to all the destinations listed in the first ad, as well as the destination airport name for Milan in the second ad.

EasyJet said that, according to CAP guidance, it was not necessary to name the departure or destination airports in circumstances where a destination was served by more than one airport.

Furthermore, the airline said that its prices were the same regardless of whether customers were travelling out of Gatwick, Luton or Stansted and on this point did not believe the ads to be misleading.

The ASA found that easyJet could not provide sufficient data to show how many of the destinations featured in the first ad had been sold at or below the advertised "from" price of £30.99 and therefore the claim could not be substantiated in full. For this reason, the first ad was found to be misleading.

The airline explained that, at the time the ad ran, it flew to both Milan airports from Gatwick at the same fare. However, because it could not substantiate this with sufficient data, the watchdog concluded that the second ad was also misleading.

The ads must not appear again in their current form.