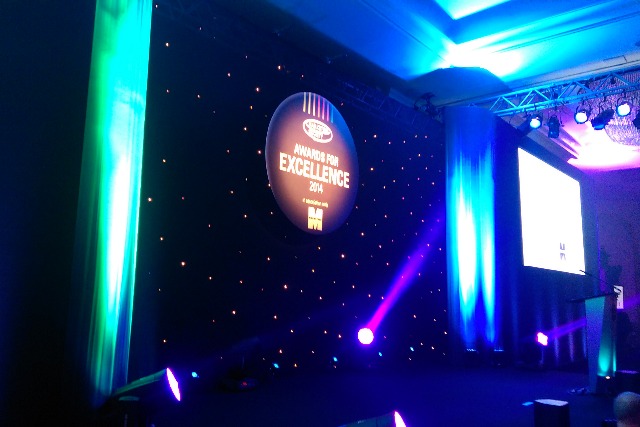 The Grand Prix capped off a superb evening for the airline at the awards ceremony, held at London's Hilton Park Lane, with easyJet's group commercial director, customer, marketing and product, Peter Duffy, winning Leader of the Year 2014.
EasyJet also picked up the award for Long-Term Marketing Excellence for its submission, 'How marketing became a catalyst for easyJet's extraordinary transformation', Customer Relationship Marketing for its CRM programme, as well as the Finance Director's Prize.
Other big winners on the night included youth homeless charity The Depaul Box Company, which was awarded the prizes for Best Leading Edge Thinking and Marketing on a Shoestring. It also picked up a Highly Commended nod in the Not-for-Profit category.
BT was awarded two prizes for the launch of BT Sport, including Brand Revitalisation and Brand Extension, while HSBC scooped the inaugural award for the Best Entry from Outside the UK for activity around its sponsorship of last year's British & Irish Lions rugby union tour of Australia.
John Lewis took the Marketing Communications crown for its Christmas 2013 ad campaign, 'The Bear & The Hare', as well as the award for Brand Activation.
The much sought-after Young Marketer of the Year award went to Emanuel Gavert, global platform manager, chocolate, Mondelez International.
The Marketing Society's chief executive Hugh Burkitt said: "If you were shortlisted in any category, you should be proud. Your case history has had to stand up to the scrutiny of a distinguished group of marketers, and you have also had to face competition from brands in a whole variety of different markets.
"The winners represent the Society's view of best practice across all the different skills that a marketer needs to master."
Marketing's acting editor Rachel Barnes added: "Summing it up are the judges' comments: 'Great brand engagement. Brilliant ROI. A business-led strategy. A shining example of how marketing should be - leading from the front. We just fell in love with it.'
"Marketing is honoured to be involved in these pre-eminent awards once again. They lead the way in ensuring that marketing's contribution to the wider business world continues to garner greater recognition."
Grand Prix
Winner - easyJet (Agency: OMD UK, VCCP)
Customer Insight
Winner - Mercedes-Benz (Agency: AMV BBDO)
Highly Commended - Macmillan Cancer Support (Agency: VCCP)
New Brand
Winner - Hailo (Agency: Rothco)
Brand Activation
Winner - John Lewis (Agency: adam&eveDDB)
Brand Revitalisation
Winner - BT Sport (Agency: AMV BBDO)
Highly Commended - Jaguar Land Rover (Agency: Spark44)
E-commerce
Winner - Expedia (Agency: Ogilvy & Mather)
Social Media Marketing
Winner - ASOS
Highly Commended - Sainsbury's (Agency: AMV BBDO, PHD, Blue Rubicon)
Mobile Marketing
Winner - Aviva (Agency: AMV BBDO)
Highly Commended - The Go-Ahead Group (Agency: Bluestone360)
Marketing on a Shoestring
Winner - The Depaul Box Company (Agency: Publicis London)
Highly Commended - Seraphine (Agency: JWT London)
Best Entry from Outside the UK
Winner - HSBC (Agency: Fast Track, JWT)
Young Marketer of the Year
Winner - Emanuel Gavert, global platform manager, chocolate, Mondelez International
Highly Commended - Lizzie Barclay, marketing manager, RBS
Marketing Leader of the Year
Winner - Peter Duffy, group commercial director, customer, marketing and product, easyJet
Brand Extension
Winner - BT (Agency: AMV BBDO)
Highly Commended - Asda (Agency: Fallon)
Highly Commended - Baileys (Agency: 101 London)
Marketing Communications
Winner - John Lewis (Agency: adam&eveDDB)
Highly Commended: Galaxy Chocolate (Agency: AMV BBDO)
Highly Commended: Paddy Power (Agency: Crispin Porter + Bogusky, M2M, Lucky Generals)
Customer Relationship Marketing
Winner - easyJet (Agency: Havas EHS)
Content Marketing (Event partner: Yahoo!)
Winner - Sainsbury's (Agency: AMV BBDO, PHD, Blue Rubicon)
Highly Commended - Trelleborg Marine Systems (Agency: Stein IAS)
Marketing Leadership
Winner - Burton's Biscuit Company
Marketing for Sustainable Consumption
Winner - Unilever (Agency: Lowe Group)
Highly Commended - British Gas (Agency: CHI & Partners)
Cause Related Marketing
Winner - Paddy Power (Agency: Crispin Porter + Bogusky, M2M, Lucky Generals)
Highly Commended - Pedigree (Mars Petcare) (Agency: AMV BBDO)
Highly Commended - Sainsbury's (Agency: AMV BBDO, Initials, PHD)
Not-for-Profit Marketing
Winner - NSPCC (Agency: OMD UK)
Highly Commended - The Depaul Box Company (Agency: Publicis London)
Employee Engagement
Winner - AMV BBDO
Business to Business Marketing (Event partner: Yahoo!)
Winner - Newsworks
Highly Commended - Hiscox (Agency: VCCP)
Global Marketing
Winner - Sheba (Mars Petcare) (Agency: AMV BBDO)
Highly Commended - Jaguar Land Rover
Long Term Marketing Excellence
Winner - easyJet (Agency: OMD UK, VCCP)
Finance Director's Prize
Winner - easyJet
Best Leading Edge Thinking (Event partner: Yahoo!)
Winner - The Depaul Box Company (Agency: Publicis London)