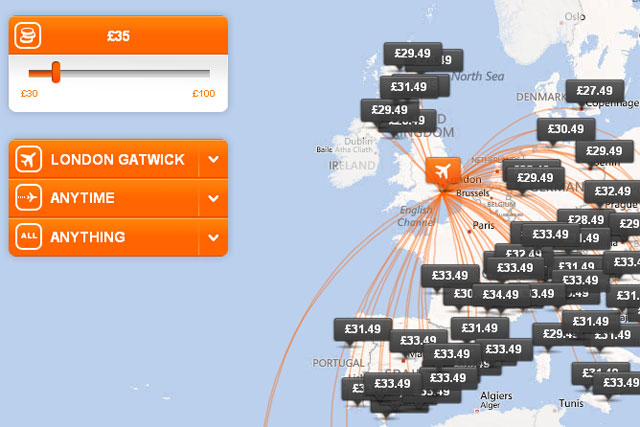 The "inspire me" tool uses a scrolling bar to display varying budgets, airports and holiday themes to European customers.
The app's may highlights the available destinations, ticket prices and flights in real-time according to people's individual decisions.
The American booking website will take payments in dollars and launches later this month.
The carrier is releasing the next phase of its 'Europe by easyJet' marketing campaign on Saturday 6 October. The TV ad will go live in France, Italy, Switzerland and the UK.
Speaking to Marketing, Peter Duffy, the airline's top marketer said the ad is the "icing on the cake" to the carrier's overhauled digital strategy, which includes the revamped website, a mobile site and the carrier's booking app.
Duffy said: "Everybody knows that we are fantastic value and that we are orange, but this begins to position us as Europe's preferred airline.
"We get about 400 million people coming to our site every year. We've put a commercial approach in place to improve our conversion.
"Twelve months ago we didn't have an app or mobile web, around 3.5% of our revenue at the moment is coming from those channels.
"This is about improving conversion and extending our digital reach.
"The new look of the website at the beginning of the year was about managing conversion in a much more structured way, and the inspire me tool is a way of showing the customer great value."