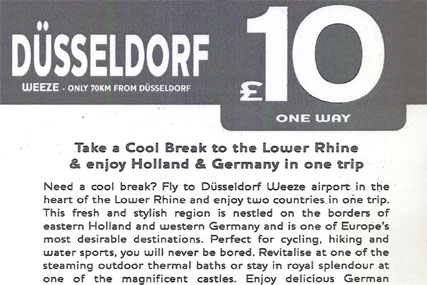 The two Ryanair print ads, created internally, stated 'Glorious Gothenburg, £10 one way' and 'Düsseldorf £10 one way', with the latter adding 'Weeze – only 70km from Düsseldorf'.
EasyJet challenged the availability of the advertised £10 fares to the two destinations; whether the fares included taxes, charges and check-in fees; and whether the ads were misleading because they did not state the applicable dates. It also queried whether Ryanair could describe Weeze airport as a Düsseldorf airport.
Ryanair argued that, although the fare was reduced from £10 to £5 the day before the ad was published, 10,000 seats were available through the £10 offer for London Stansted to Gothenburg, and 22,000 seats between Stansted and Düsseldorf-Weeze.
The Irish carrier also defended itself against the other complaints, insisting that the fares in the ads included all taxes, charges and non-discretionary fees.
It added that there was no specific CAP Code requirement that advertisers include the specific travel periods of such offers, and that the International Air Transport Association (IATA) had deemed that Weeze was a designated airport for Düsseldorf.
Although the ASA did not uphold the latter three complaints regarding fees, dates and the description of Düsseldorf-Weeze airport, it did censure Ryanair for "misleading" consumers on the availability of the fares.
An ASA spokesman said: "Because we considered that consumers would understand '£10 one way' to mean that all flights to Gothenburg and Düsseldorf-Weeze were available at £10, and because we had not seen evidence to support that claim, we concluded that the ads were likely to mislead,"
Paul Simmons, easyJet's UK general manager, was pleased with the adjudication: "We welcome the ASA's decision that one Ryanair advert broke six elements of the advertising standards code – that's something of a record, even for them."