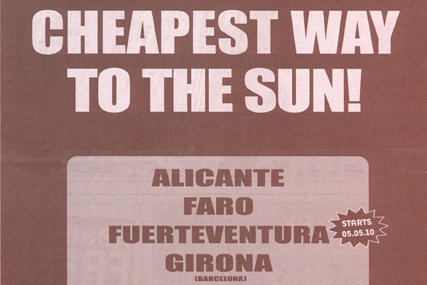 The print ad, created in house by Ryanair and which ran in April this year, used the headline "Cheapest way to the sun" and listed destinations Alicante, Faro, Fuerteventura, Girona, Lanzarote and Malaga.
The ad's text read "Flights from London (Stanstead)", with smaller text reading "Book now for summer 2010. Many routes available. See Ryanair.com for details."
EasyJet objected to the ad, arguing it was misleading and that it had made unsubstantiated claims by saying it was the "cheapest way to the sun".
Arguing its case, Ryanair provided the Advertising Standards Association with average fares for various competitive airlines operating from the UK, including easyJet, Aer Lingus, Alitalia, Iberia, Air France, Lufthansa and British Airways.
Ryanair claimed that its average fare was €32 during the summer period this year, while its competitors charged an average of €66.
The airline also provided screen grabs from its website and its nearest competitors site from the selected dates, showing the low-cost carrier to be cheaper.
The ASA ruled in the favour of easyJet and banned the ad, concluding that although the airline sometimes offered cheaper flights than their nearest competitor, the claim of being the "cheapest way to the sun" was misleading and unsubstantiated.
Ryanair would need to have consistently offered the lowest fares to the advertised destinations during summer 2010.