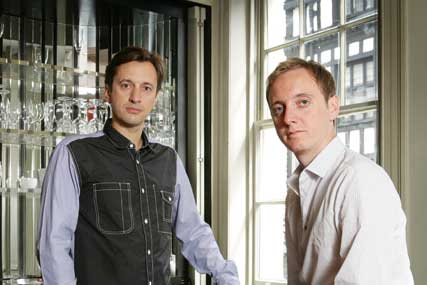 For those who don't know, a Gravity Road is, according to that primary source for all contemporary journalistic research (Wikipedia), an "optical illusion ... caused by the layout of a surrounding landscape producing the appearance that a slight downhill slope appears as an uphill slope". The key to the illusion being successful is the obstruction of any horizon to provide a frame of reference.
It's an unusual name for the new agency (although we're not really meant to call it that - it's a "creative company", apparently), formed by Bartle Bogle Hegarty's Mark Boyd and Drum's Mark Eaves. It seems to suggest that creating content and platforms for brands has looked more difficult than it actually is. Brands that have dabbled in branded content might beg to differ - perhaps that's where the "lack of a frame of reference" comes in.
Boyd and Eaves see it differently. They say that they chose the name not for these reasons but because a gravity road is "where magical things happen".
As well as having an unusual name for their new business, the pair also seem, at first glance at least, to be improbable business partners. Other than sharing the same first name and both being awarded the accolade of being best known for the appended versions of their names (Boydy and Eavesie respectively), they appear quite different.
First, Boyd(y). A 38-year-old floppy-haired, rather refined and dainty Scottish ex-public schoolboy who thinks carefully - and seriously - before he speaks. And when he does deliver his considerations, he does it with all the gentle and reassuring bedside manner of a physician from a more genteel part of Edwardian Edinburgh.
Prone to wearing slightly flamboyant clothing, the diminutive dandy Boyd is also said to go dizzy by the merest whiff of the barmaid's apron - confusing those who prefer their Scotsmen to live up to a lazy racial stereotype.
Eaves(ie), 34, meanwhile, appears at face value to be a slightly doe-eyed, personable, warm, unpretentious and funny football-loving state school lad from that famed fleshpot of the North, Blackpool (coincidentally a Gravity Road was also an early name for a rollercoaster). Tall, more conventional - in a good way - he's easy company, with the ability to chat knowledgeably about pretty much anything; you would think, then, he was the antithesis of his rather Fancy Dan new business partner. He also seems to have impressively hollow legs.
So it seems they have very little in common. Wrong. As well as having quite a compelling personal chemistry - which makes them both great fun and interesting to be around - the pair have both at their respective agencies been the prime movers (and cheerleaders) in the creation of some of advertising's most engaging content for brands.
For years both have taken to any platform to eulogise about how brands need to think differently about content and how they can use it successfully. They have done it - and do so about their new company - with a passion that shows they have strong beliefs that would convince even the most cynical of sceptics.
But they think that the time is now right to go it alone. Social media, digital platforms and the way that this has created new opportunities - and distribution channels - for owned, earned and paid-for media seems to have changed the dynamic, prompting the pair to take the not inconsiderable risk of giving up the security - and presumably generous salaries - of their employers to set up Gravity Road. With Gravity Road, they hope to be able to take branded content to a new level and put it at the heart of the communications plan.
"This is not about doing more TV programmes," Boyd emphasises - although both have been responsible for some of the bigger and more successful AFP deals on UK television such as The Krypton Factor on ITV1 with Sage, as well as devising and implementing O2's music strategy. "Our reference points are much wider than just advertising or TV. Our ambition is to build long-term platforms," Boyd adds.
As examples of these, Boyd cites The Michelin Guides or the way that Red Bull has created its own entertainment platforms such as its televised flying challenges and Flugtag.
Eaves agrees: "We're not here to get more AFP away. We see a radical change between paid, owned and earned media. If marketers want to compete they have to have the right assets to do that."
The pair wants to create these assets that will work across multiple platforms and have an enduring quality. "We want to look at client problems; we've observed the way that many agencies' work is based around short-term campaigns," Eaves says.
While both are complimentary about their previous employers - Eaves has never worked anywhere else - they point out that a lot of content that is created is post-rationalised. They want to start with an entertaining idea for a brand that will run and run rather than just add some off-the-shelf content as a bolt-on to an ad campaign.
Tess Alps, the chief executive of Thinkbox, hired both Boyd and Eaves when she was running Drum. She can't praise them enough: "There's no shortage of people who want to do branded content. The difference about these two is that they know how to do it - they have a track record of making it happen. They've also pushed against the edge of what is possible and have been more effective and successful than the others."
Alps thinks that the pair have the right connections across brands, production companies, broadcasters (and other platform owners) to make their risk a success. Indeed given the general collective goodwill, the pair's undoubted talent and energy, the pressing need for brands to think of themselves as entertainment properties in their own right and the fact that no other agency/company in this space appears to be set up to produce multi-platform formats, then it looks like the two Marks might be on to something.
Those who think that this Gravity Road will prove just to be an optical illusion are likely to be disappointed.