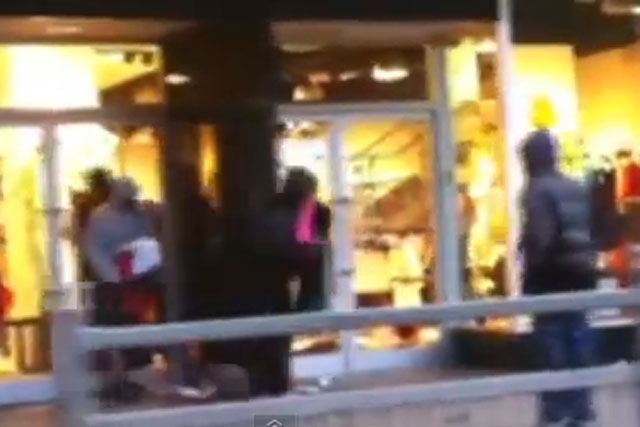 As retailers suffered another night of criminal activity last night, which spread beyond London and Birmingham to new areas including Manchester, Liverpool, Bristol and Nottingham, concerns are mounting that stolen goods may be sold on via online retailers such as Gumtree and eBay.
A spokeswoman for eBay, the UK's largest online auction site, said it had not seen any unusual listing activity on the site since the looting began at the weekend, but said the site will be vigilant over the coming weeks.
She said: "Our thoughts are with the businesses and communities affected by recent events in London and around the UK. EBay will cooperate fully with the investigating authorities to identify and remove any listings which are linked to criminal activity."
Meanwhile a spokeswoman for the listings site Gumtree, said: "We work closely with the police and will do everything we can to help them bring any criminals using our site in this way to justice."
The spokeswoman is actively encouraging any users who are suspicious of an ad on the site to inform them via the "report" button, found on every page. The safety team will then investigate the listing and take "appropriate action".
As well as local business, retailers including JD Sports, Footlocker and Currys have been badly affected by the looting taking place.
The British Retail Forum has condemned the violence, saying retailers and staff are "particularly vulnerable and need protecting".
Stephen Robertson, director general of the British Retail Consortium, said: "The shocking levels of lawlessness breaking out across the UK are hitting the heart of our communities.
"The police have shown great courage in facing the vandals but it is imperative retailers know that resources and plans are in place to prevent any repeat of this trouble."
The consortium met home secretary Theresa May yesterday to seek assurances that the police and fire services will have sufficient resources to protect retailers.
A spokeswoman for the retail trade body said it was pleased with the outcome of the meeting and that May was receptive to its points made about ensuring criminals will be arrested and appropriately punished.
Meanwhile, Research In Motion, whose BlackBerry Messenger service has been blamed for helping the rioters to organise the violence without having their messages intercepted by police, has said it will help the authorities with their investigations.
Yesterday (10 August) VisitBritain, the national tourist board, announced it was suspending digital activity on the BBC's international news site, as part of its £100m 'You're Invited' campaign, as the ads are deemed "no longer appropriate".