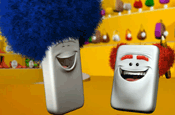 A formal pitch for the business will kick off at the start of next year, but eBay has already informed agencies of its intention to call the review.

The account was previously held by PHD, which parted company with eBay in February this year after it moved the majority of its adspend into digital and below-the-line channels.

However, eBay is understood to be planning to increase its media spend and move back into above-the-line activity.

This week, eBay appointed the Aegis-owned Carat to handle media for its estimated £1.2 million UK pre-Christmas campaigns.

The auction site's online planning and buying account is currently handled by the digital agency Essence, which won the business in August.

Last month, eBay launched a direct marketing campaign to alert regular users to site enhancements.

The campaign, by Tullo Marshall Warren, included direct mail, on-site marketing and e-mail.